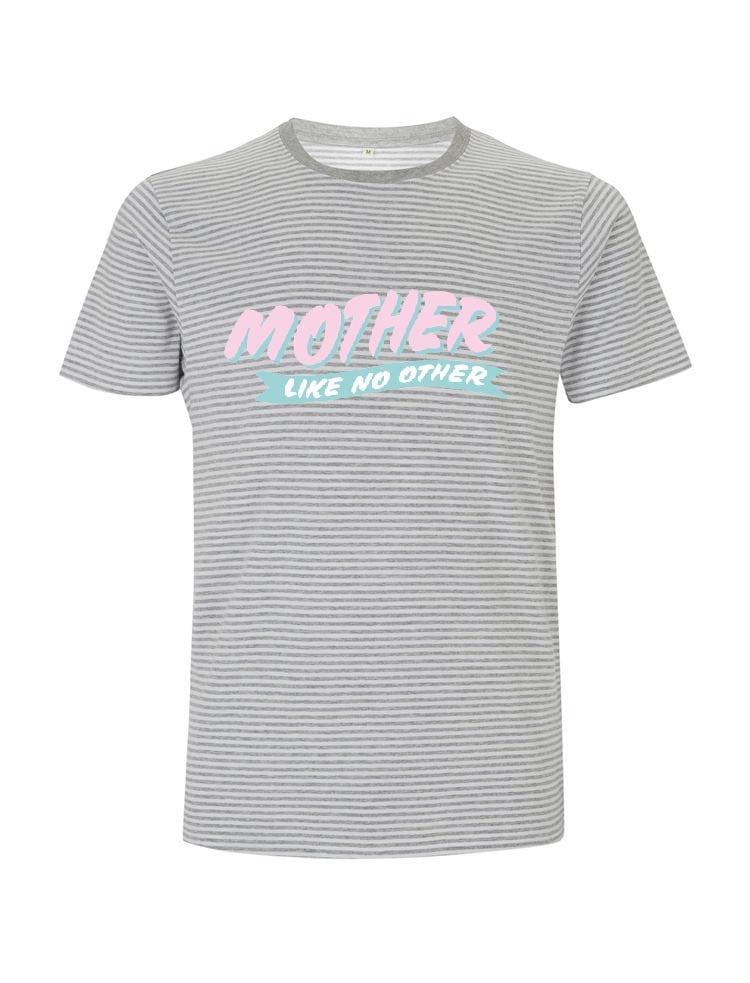 Mother Like No Other striped Tshirt
***Mother's Day cut off - 15th March***
Had enough of strangers telling you how to parent? Let the t-shirt do the talking. You're one in a million. You're a mother like no other.
Clothing to empower, whether you're at a toddler group, in the supermarket queue, or even hanging out with disapproving family members, we've all been there. Stick it to them without saying a word. You do it your way and that's more than OK.
* PLEASE READ ALL INFORMATION BEFORE ORDERING *
Details
Light grey and white striped earth positive Tshirt. Locally screen printed.
100% cotton
Size guide
S - 35/37"
M - 38/40"
L - 41/43"
XL - 44/46"
XXL - 47/49"
We recommend sizing up if you'd like a baggier, oversized fit. The model is a size 10 and wearing a medium.
If you are unsure about the size please do measure and check before ordering. If in doubt, we always recommend sizing up.
**Important information**
How long will they take to arrive?
Please allow 3-4 weeks from the date of ordering. Each item is lovingly hand printed in a small local printers. Usually the item is already in stock but in case it's not I like to say 3-4 weeks.
Overseas orders please allow a little longer.
Returns & exchanges?
As orders are all MADE TO ORDER just for you, and I am a one mama band (there really is no one else, just me!), coordinating orders and packing, I CANNOT offer an exchange or refund - please, please do check the size guide above before ordering. I check every item thoroughly before sending, however, if you have a problem, please do email me within 14 days of receiving your items. Our contact is - thisismotherlikenoother@gmail.com
Wash & care instructions
We recommend washing all my products inside out at 30C. Tumble dry inside out, on dryers lowest heat setting. Please iron using the lowest heat setting, and iron inside out. Slight shrinkage of garments may occur after washing, and some fading and / or cracking of the prints will occur over time, due to the nature of water based inks.